Recently, Brian and I were asked to be guests on Engage!: A Family Gaming Podcast to talk about our time at Origins Game Fair.
We were thrilled to join – I mean, you don't have to ask us twice to talk about board games.
It was fun to chat with Stephen of Engaged Family Gaming about how Stay-At-Home Gamers got started as well as pull back the curtain a bit on content creation.
We even shared a few tips on taking your kids to Origins Game Fair, since we've taken ours along with us both years.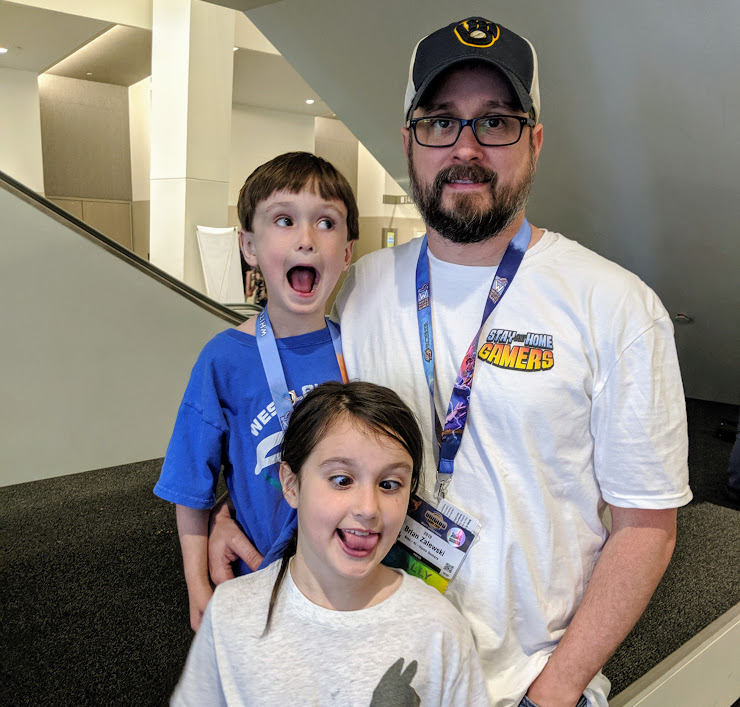 RELATED: 5 Things to Do With Kids at Origins Game Fair
After our interview, we talked with Stephen and Anitra of The Family Gamers about attending Origins 2019. Anitra was also there, so we took turns sharing about the games we played.
The board games we discuss in this episode include:
Draftosaurus
Deadly Doodles
Roll for Adventure
Shobu
Sorcerer
Epic Monster Tea Party
Smash City
SOS Dino
Everyone Loves a Parade
Die Hard: Nakatomi Heist
Echidna Shuffle
Listen to our podcast episode here.
More Posts You May Enjoy:
Join the newsletter
Subscribe to get family gaming tips, reviews and our latest content by email.