If you like finding board games for kids that are both educational AND fun to play as an adult, then listen up.
We received Ocean Crisis and the Ocean Crisis: Catastrophe expansion by Shepherd Kit to preview before going live on Kickstarter.
I'm going to talk about how to play this game and our overall thoughts on it after playing it with my family.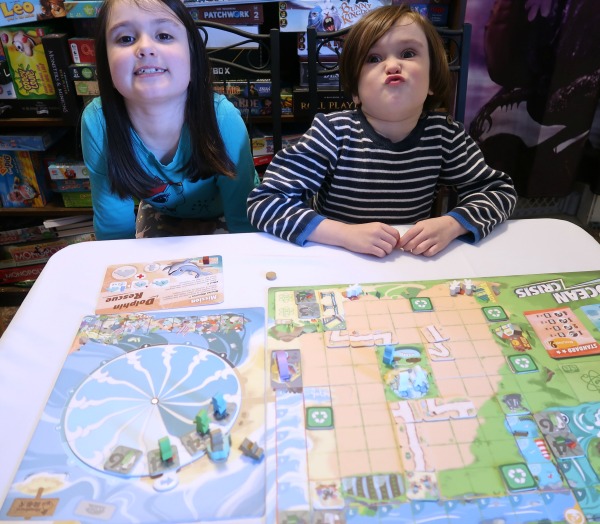 Ocean Crisis Family Board Game Review
Ocean Crisis is a cooperative game for 2-5 players and takes us about 30-40 minutes to play. That length of time is in the current sweet spot with my kids, who are 8 and 6 years old.
Ocean Crisis is a game that tackles a serious real-world issue while also making gameplay fun.
Players work as a team on garbage cleanup, recycling, reducing waste, and technology research.
There is plenty of strategy balanced with a bit of luck and everything makes sense as it relates to the theme of the game.
The base game also includes six eco-rescue missions and scenarios that you can add to make it more challenging:
Sea Turtle Nesting Mission
Dolphin Rescue Mission (my daughter's favorite)
Quest for Hermit Crabs Mission
Crab Protection Scenario
Shark Defender Scenario
Save the Herons Scenario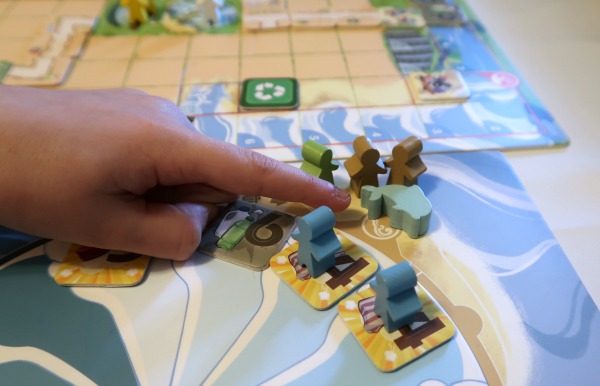 There is also an expansion called Ocean Crisis: Catastrophe. The expansion includes four additional missions and scenarios plus the wooden components and game tiles to go with them:
Beached Whale Mission
Ocean Project Mission
Oil Tanker Spill Scenario
Ghost Nets Scenario
The Catastrophe expansion also includes a new set of Special Event round cards.
I love that the expansion cards and pieces fit inside the Ocean Crisis box, so I could combine everything into one box rather than having two on the shelf.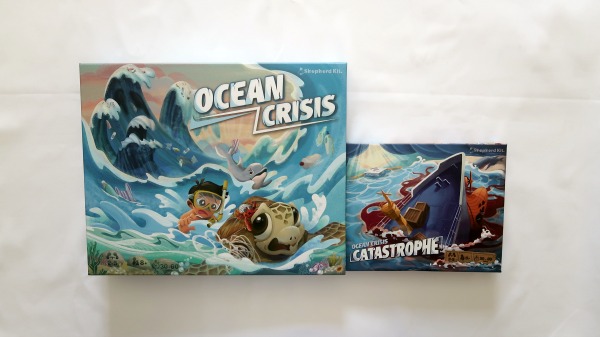 How to Play Ocean Crisis
This is a cooperative game, which means you are encouraged to talk with each other about where to put your meeples and how you want to tackle each round.
Ocean Crisis Difficulty Levels
There are different difficulty levels included in the main game.
Beginner has four rounds, but does not use all of the add-on abilities and resources. It's a nice option for younger children and demonstrating overall how to play the game.
Standard has six rounds. You will place all of the abilities and resources on the board so they can be unlocked while playing. It's more challenging and longer than Beginner. Though in some ways it's easier because you can gain access to more things, such as the Ocean Vacuum, that are not part of the Beginner level.
Difficult has six rounds. Try this one after winning at the Standard level a few times. There are even more garbage tiles placed during each round, making it more challenging to clean up.
Impossible. Swap out the Difficult round one card and replace it with Impossible. Use the rest of the Difficult level cards.
Another option is to randomly shuffle the round cards so you don't know what will be coming up next.
Phases of Ocean Crisis
Each game round has five phases.
Setup
Planning
Action
River Flow
Ocean Current
Setup Phase
During setup, place the garbage tiles as indicated on the round card.
Round One is the only card that will tell you what value of tile needs to be placed.
The rest of the round cards will say if you need to add (+) a certain number of tiles or multiply (x) the number currently in that section. Those tiles are randomly drawn from the bag.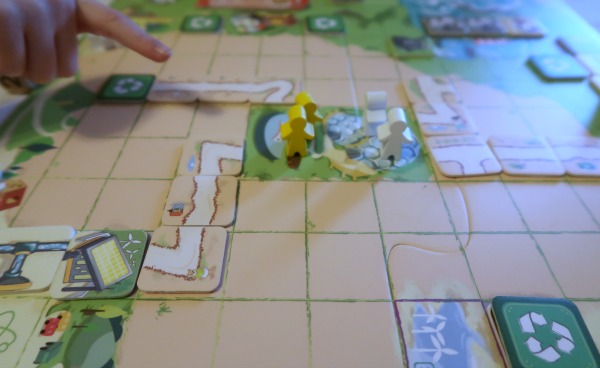 Planning Phase
There are two choices during planning. Decide how many meeples to place in the Eco Base and how many to place on garbage tiles. More than one meeple may be placed on a single garbage tile, but you will only roll once for that tile.
Action Phase
During the action phase, each player takes a road tile for each of their meeples in the Eco Base. Only the Start Player takes land tiles for the neutral team members in the base (this will depend on the number of players).
Starting with the Start Player, each player must place all of their road tiles before going to the next person. The road tiles must connect to the Eco Base or to a previously placed road tile.
Note that if a road tile connects to a location tile, you can continue the path on any adjacent space.
When a path connects to a land tile, it is immediately activated.
After all of the road tiles have been placed, then players will work on reducing and cleaning up waste.
Starting with the Start Player, point to the garbage tile you are working on, then roll the number die. The number on the die is added to the number of meeples on the garbage tile.
If the sum equals or exceeds the tile, it is removed. If you do not succeed, you will REDUCE the waste by flipping it over to show the yellow side, which is one value lower.
River Flow Phase
All of the garbage tiles left on the board will move from one section to the next. Everything in the Estuary (III) will flow into the Ocean, starting at the spot marked with a garbage can. Fill in the spots on the ocean board. (only one tile per section).
Then move everything from Downstream (II) to the Estuary and everything from Midstream (I) to Downstream.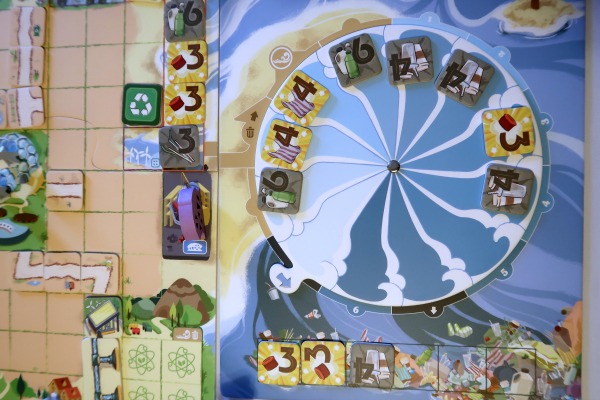 Ocean Current Phase
After moving the garbage tiles during the River Flow, it's time to move the Ocean around. The Start Player rolls the pip die and moves the ocean board counterclockwise that number of spots.
If there are garbage tiles on the arrows, then those one or two pieces flow into the garbage patch that represents Garbage Island.
If you've unlocked the Ocean Vacuum, it automatically sucks out the garbage tile that stops near it. That tile does NOT go into the research center.
The next player is the now the new Start Player. Discard the top round card and begin setup for the next round.
How to Win Ocean Crisis
There is only one way to win in Ocean Crisis. At the end of the last round, Garbage Island must have at least one empty space to win.
If you fill the sixth spot on Garbage Island at any point during the game, you lose.
Just because this is a family board game designed to play with your kids does not mean it is easy to win.
There are plenty of decisions to make, such as which garbage tiles to concentrate on cleaning up.
Deciding how many team members to place on the tiles.
Do you focus on building paths to build skills and unlock abilities to help in future rounds?
In Ocean Crisis: Catastrophe, there are three conditions that must be met in order to win.
Why Ocean Crisis is a Good Family Game
When I first was asked about reviewing this game, I thought the theme and concept looked good, especially for kids.
However, I was pleasantly surprised by how much I enjoyed playing it.
Fun for all ages
Not only is it a fun board game to play with my kids, but the strategy was also enjoyable when just my husband and I played.
The rulebook is clear and how the game flows is solid. It didn't feel like any of the phases were unnecessarily or fiddly for no reason. About the only thing I could say is I wish there were more turns during the action phase.
While we believe every game provides an opportunity for learning, we also recognize that some educational based games tend to be more focused on learning than fun gameplay.
Ocean Crisis is a game that tackles a serious real-world environmental issue while also making gameplay engaging.
Cooperative play
The cooperative approach kept the focus on how we – the players – could work together to win and also reinforced the idea that we – as people – need to work as a team on environmental issues.
We play a lot of cooperative games, so we know they can be challenging to win. Most of our cooperative games have one way to win, but several ways to lose.
In Ocean Crisis, there is only one way to win (by keeping Garbage Island from filling up before the end of the last round) and only one way to lose (when Garbage Island is full).
It's educational
Playing this board game with my kids provides a great visual of the real-world issues of waste and garbage. It also sparked questions and discussions. They wanted to learn more and started coming up with ideas on how to help the animals.
Because of the engaging discussions we have while playing, I think this game is an excellent choice to include in study units about the ocean and the environment. It's perfect for gameschooling.
The Ocean Crisis board game and Catastrophe expansion is on Kickstarter March 20 through April 30, 2019.
Join the newsletter
Subscribe to get family gaming tips, reviews and our latest content by email.