How many board games did you play in 2018?
It's been interesting looking back over the past year – from places we've gone to games we've played. Also, taking a look at all the video content we created and launching products.
Let's take a look at some highlights and check out the 10 board games we played the most throughout the year.
Our 2018 Highlights
We made a lot of gaming memories in 2018 with our family and friends, which makes me very happy. We chat about these highlights in the video below as well as our most played games (which are also linked below).
Origins Game Fair
One of the biggest highlights was attending Origins Game Fair 2018 with the kids. It was quite the road trip and experience. It's the largest gaming convention we've attended (other than that time we went to BlizzCon before we had kids).
We got to preview lots of new games, meet with game publishers, and play games as a family. It was a wonderful family vacation and work trip rolled into one.
Game Nights
We started having more regular game nights with friends again. This is something we always want to do, but life can make it difficult. It was great bonding over gaming with new and old friends alike. It's also nice being able to play a larger variety of games because of higher player counts.
Family Game Night in a Box
We are really proud of launching our family game box. It's an idea we've had for awhile and last year we turned that dream into a reality. We're thrilled to help more families enjoy family game nights together. We also started stocking a few individual items in our online game store.
YouTube Channel Growth
In May 2017, we launched our family gaming channel on YouTube. In 2018, we worked hard on creating content. We began planning out content and the growth we've seen – especially in views and watch time – is the result of the work we've put in.
We uploaded over 200 videos in 2018 and increased our views more than 1600%.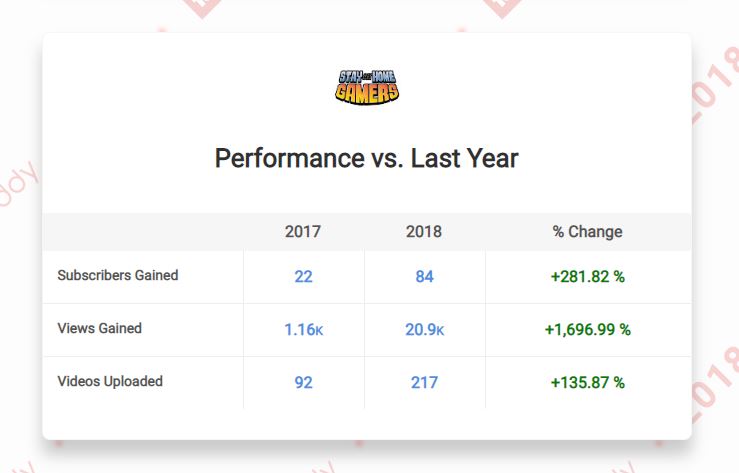 We are incredibly proud of how the channel has grown and look forward to what 2019 will bring.
Our 10 Most Played Board Games in 2018
We started using an app called Board Game Stats around May 2018 (It's free and available for both Android and iPhone). Since we started using it, we logged 60 different games that we played total of 204 times.
We knew we played a lot, but we never really had a number for it before. For some of you, that may not seem like a lot, and for others it may seem impossible to do.
We know there are some game session we probably didn't log, but we think it's fun to look through the stats. Using this app, we could easily see which board games we played the most!
We talk a little about each one of these games in the video above, so make sure to watch it to learn more about our thoughts on each of these.
There were several games tied for 10th place, so we went with the most recently played for that tie breaker. Sorry, Escape: Curse of the Temple and Qwixx, that you didn't grab an official spot on this top ten countdown!
#10 Sagrada
Sagrada is a dice drafting puzzle game where you are creating stained glass windows. It's very pretty and quite fun to play. I like that it has a solo mode and we were able to play it with our six and eight year old kids. You can watch Brian and I playthrough Sagrada here.
#9 Villainous
I was so excited about Villainous since I first saw it announced. It was worth the wait and I can't wait to play it even more. I'll be working on videos covering how to play each character along with tips on how to win. Watch our two player Villainous playthrough where I even wear my Maleficent horns to get into character.
#8 Unstable Unicorns
We played a lot of Unstable Unicorns early in the year. It's a fun card drafting and take that type of game. We love using it to introduce friends to a different play style and our daughter thoroughly enjoys it as well. Doesn't hurt that it provides a little reading practice too.
#7 Forbidden Island
Forbidden Island is one of our favorites for introducing people to cooperative games. It's great to play with the kids as well. Sometimes we mess up and mix up the rules with other similar games like we did in this total fail of a playthrough. At least it proves we're human, right?
Once you see how NOT to play, then you can watch this two player Forbidden Island playthrough where we actually follow the rules.
#6 Pandemic
Pandemic is a classic when it comes to cooperative tabletop games. We finally got our own copy of it this year and it saw lots of table time. Watch our two player Pandemic playthrough here.
#5 Thanos Rising
We first saw Thanos Rising in person while at Origins 2018 and received a copy of it to review. Once we got it home, we played it a lot – just the two of us, with the kids, and with our friends. One thing we love about it is how you can raise the difficulty level. Read more about why we love playing this game, how to play, and more in Thanos Rising: Avengers Infinity War Co-op Board Game Review.
#4 Bunny Kingdom
Bunny Kingdom may seem like it's a cute little game, but don't trust those cute bunnies for a second. This is an area control game that plays differently with only two players. We love playing it and coached our daughter on how to play. She does very well on her own now! Watch our two player Bunny Kingdom playthrough here.
#3 Roll Player
Roll Player is one of the heavier games we picked up this year. It is literally heavy with all the dice and our upgraded metal coins. We bought the base game first and enjoyed it so much that we purchased the Monsters & Minions expansion plus the organizers. Trust me, the organizers help make set up and clean up much easier.
If you like dice drafting games and character creation, then this is the perfect combo for you! It takes longer to play than most of the games in our collection and our kids don't have the attention span for it yet. I really want to teach my friends how to play it one of these days.
Watch our two player playthrough of Roll Player here.
#2 Pandemic: Legacy Season 1
We've been interested in playing a legacy game and thought Pandemic: Legacy Season 1 would be a great place to start. One thing we didn't expect was to play through it so quickly.
In less than a month, we completed it because we couldn't wait to play. Some nights we played two games back-to-back.
Unfortunately, one night we lost four games in a row. Yes, we played it four times that night. Those losses were painful.
It was a fun experience and we look forward to playing more legacy games. We just aren't sure what to do with it now that we're done.
#1 Hero Realms
It's no surprise that Hero Realms landed in the top spot for us. We pull this deck building card game out often since it is great for 2-4 players and it's fairly quick to play. Brian and I love to take it with us when we travel. It's also a big hit with our daughter and our friends. So much so that some of our friends bought their own copy.
Watch 5 Reasons we love playing Hero Realms
Now that you've heard about our 2018 gaming highlights and most played board games of the year, we want to hear from you. What games did you play the most? Leave a comment and let us know!
Join the newsletter
Subscribe to get family gaming tips, reviews and our latest content by email.